Energy Monitoring
Web Based Monitoring System is the measuring and recording of physical or electrical parameters over a period of time. Some applications require only a single measurement, while others may require multiple channels and multiple types of measurements. Web Based Monitoring System is available with various channel configurations: single-channel devices, multichannel devices, and modular devices with a mixture of measurement types. It can measure different types of signals and sensors including the following Line Voltage, Phase Voltage, Current, Kilo Watts, Frequency, Power Factor, KWH
Block Diagram for Web Based Online Monitoring System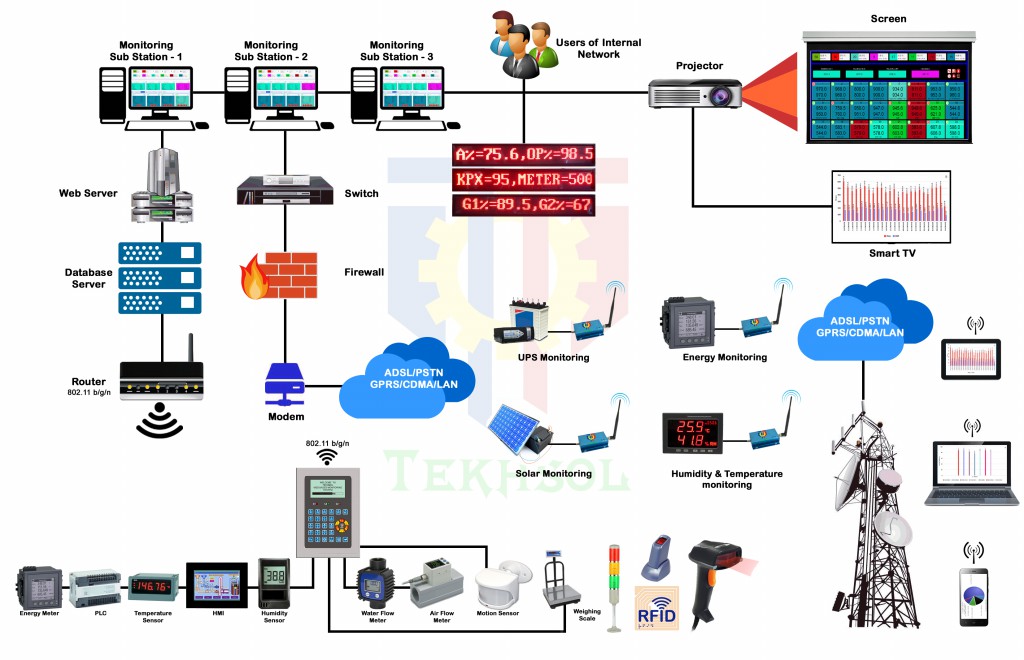 Block Diagram for Web Based Monitoring System (Energy Monitoring - Wireless)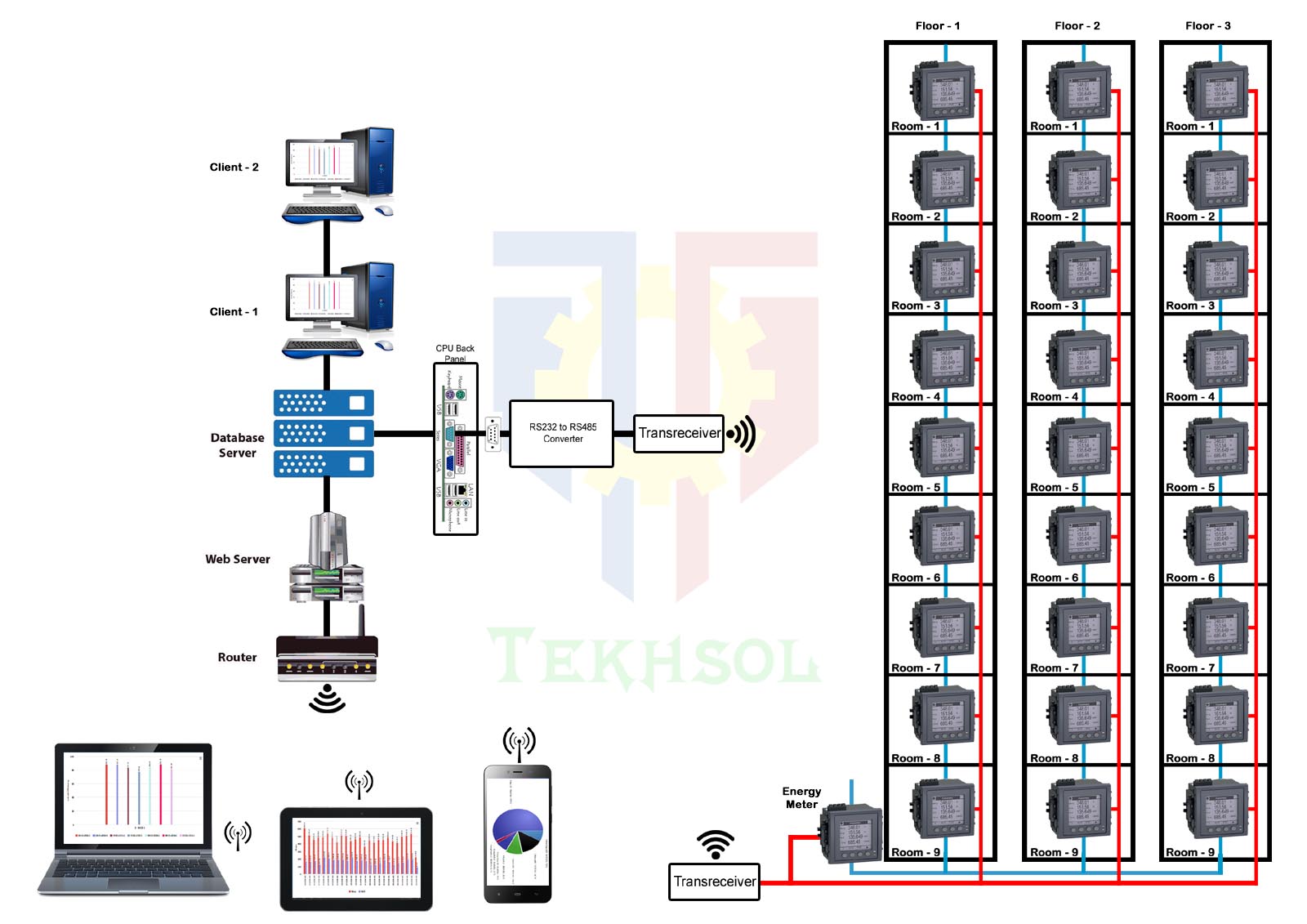 Block Diagram for Web Based Monitoring System (Energy Monitoring - Wired)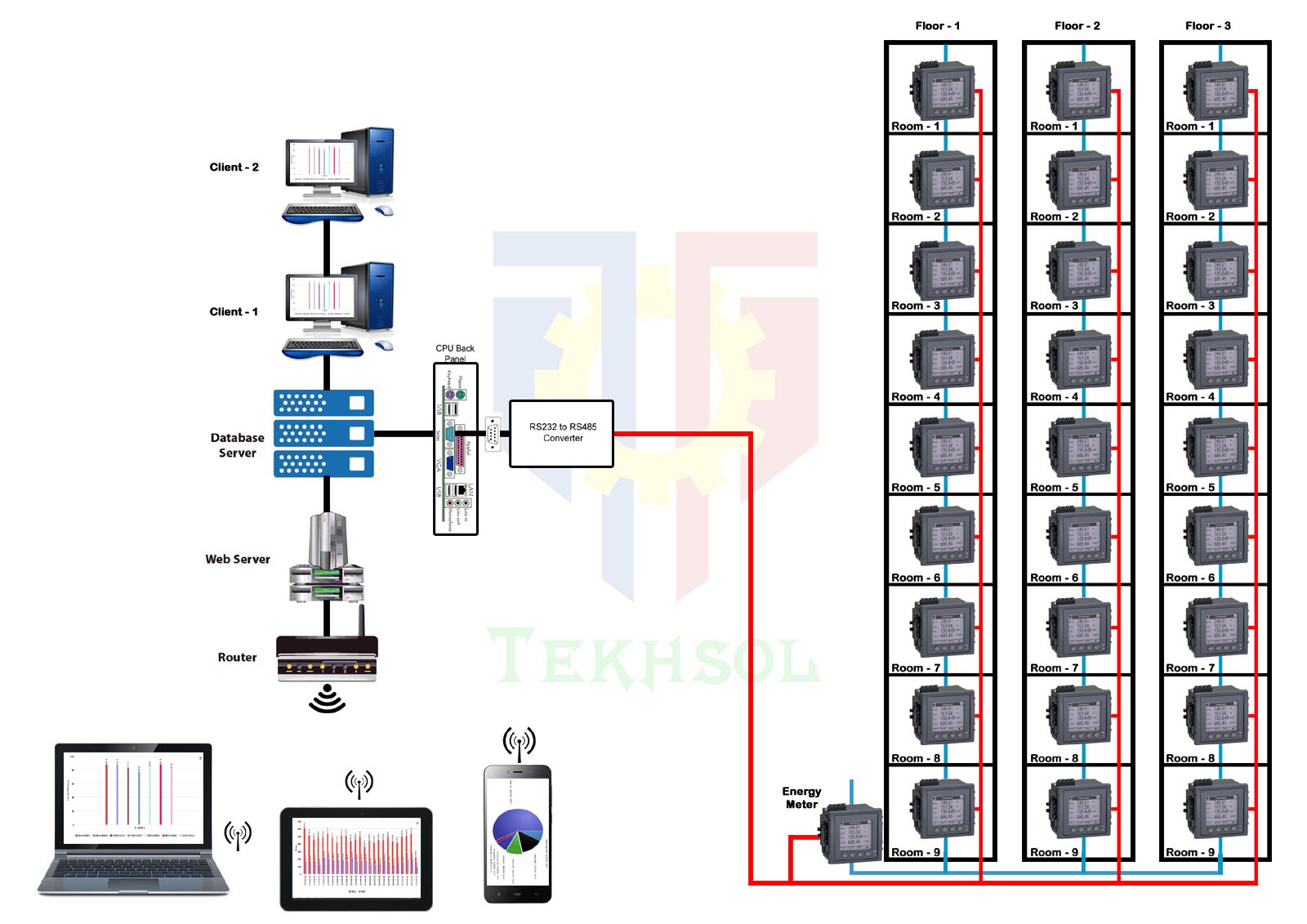 Block Diagram for Web Based Monitoring System (Energy Monitoring - Wireless)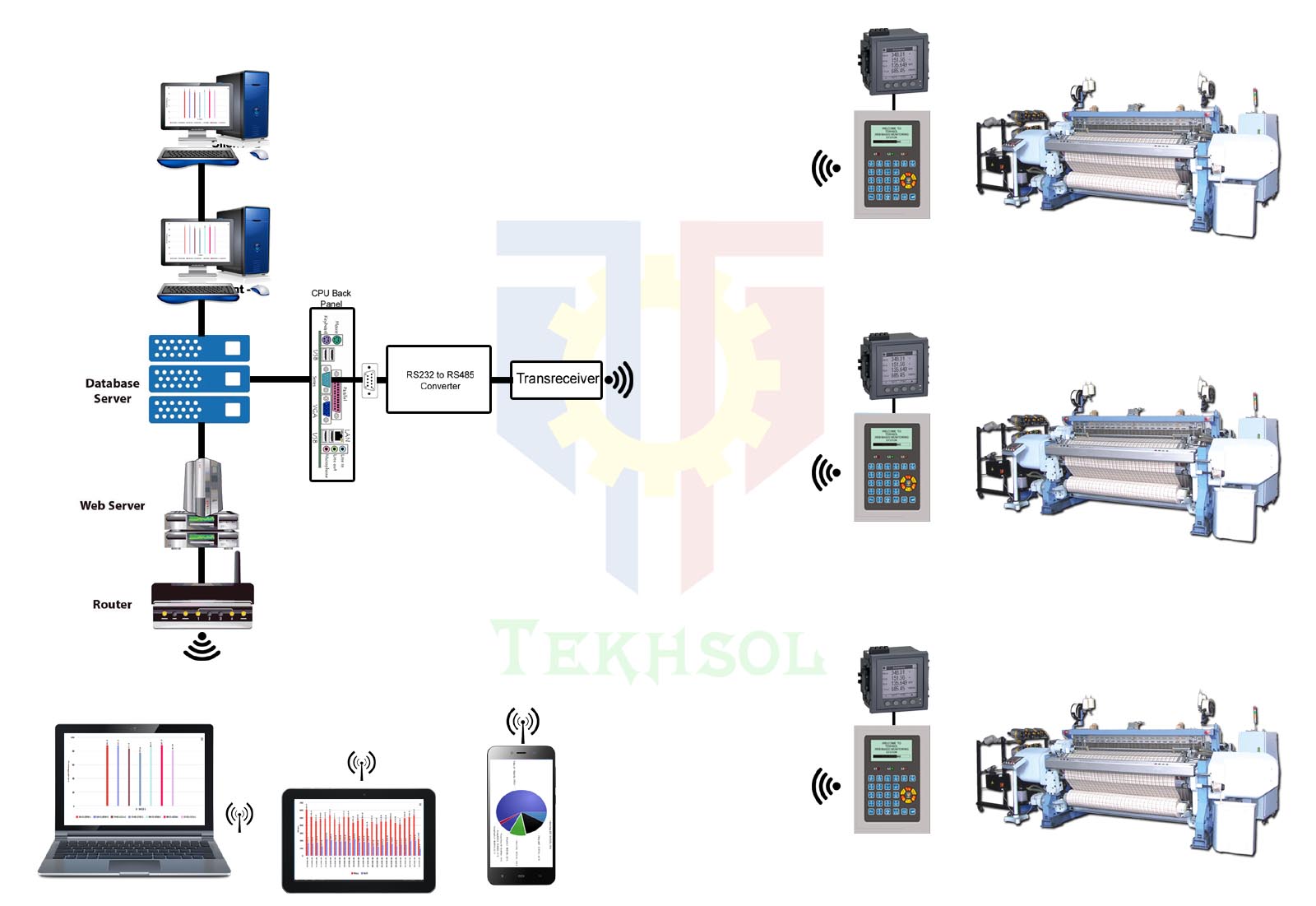 Block Diagram for Web Based Monitoring System (Energy Monitoring - Wired)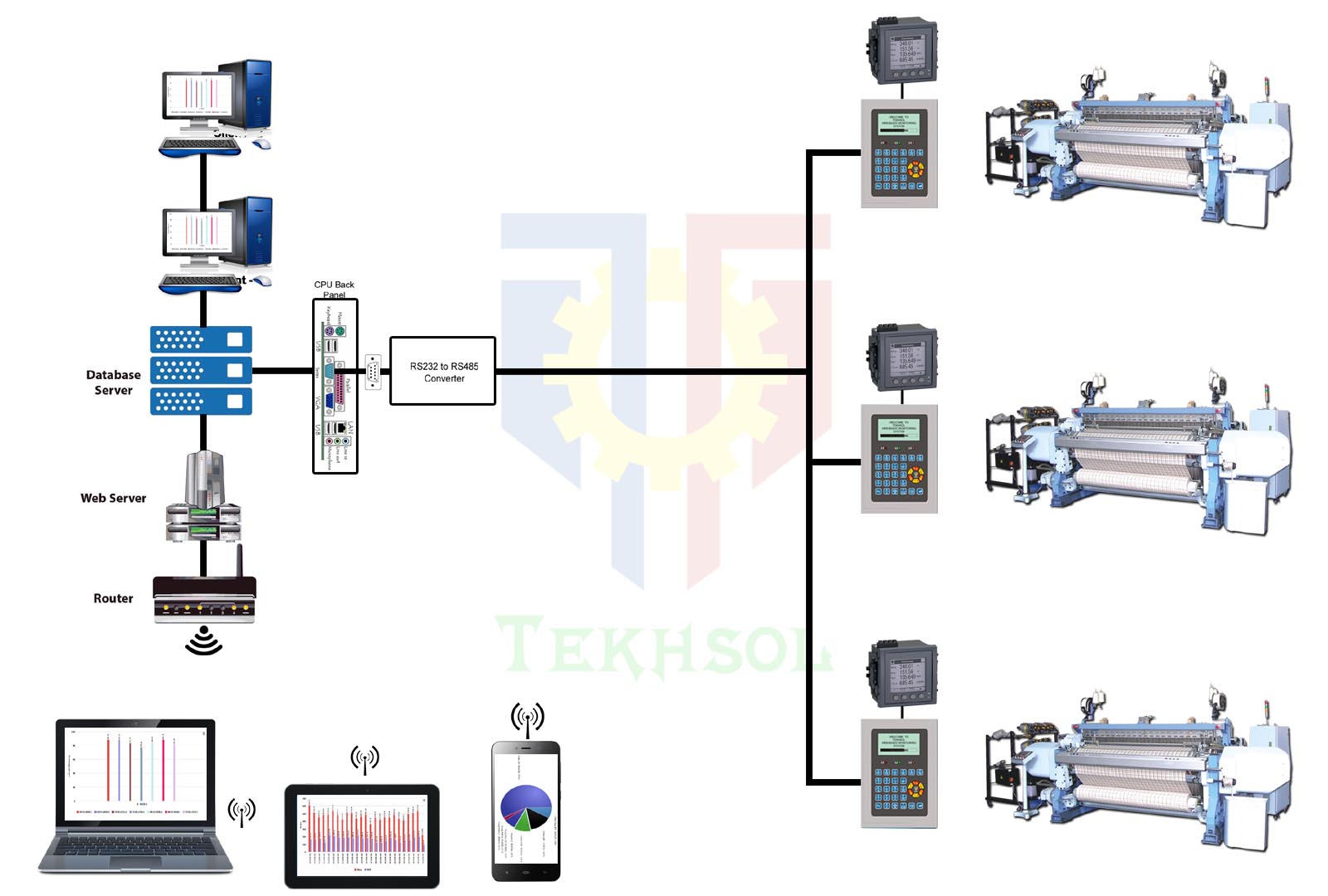 Block Diagram for Web Based Monitoring System WiFi/GSM/GPRS Based(Energy Monitoring - Wireless)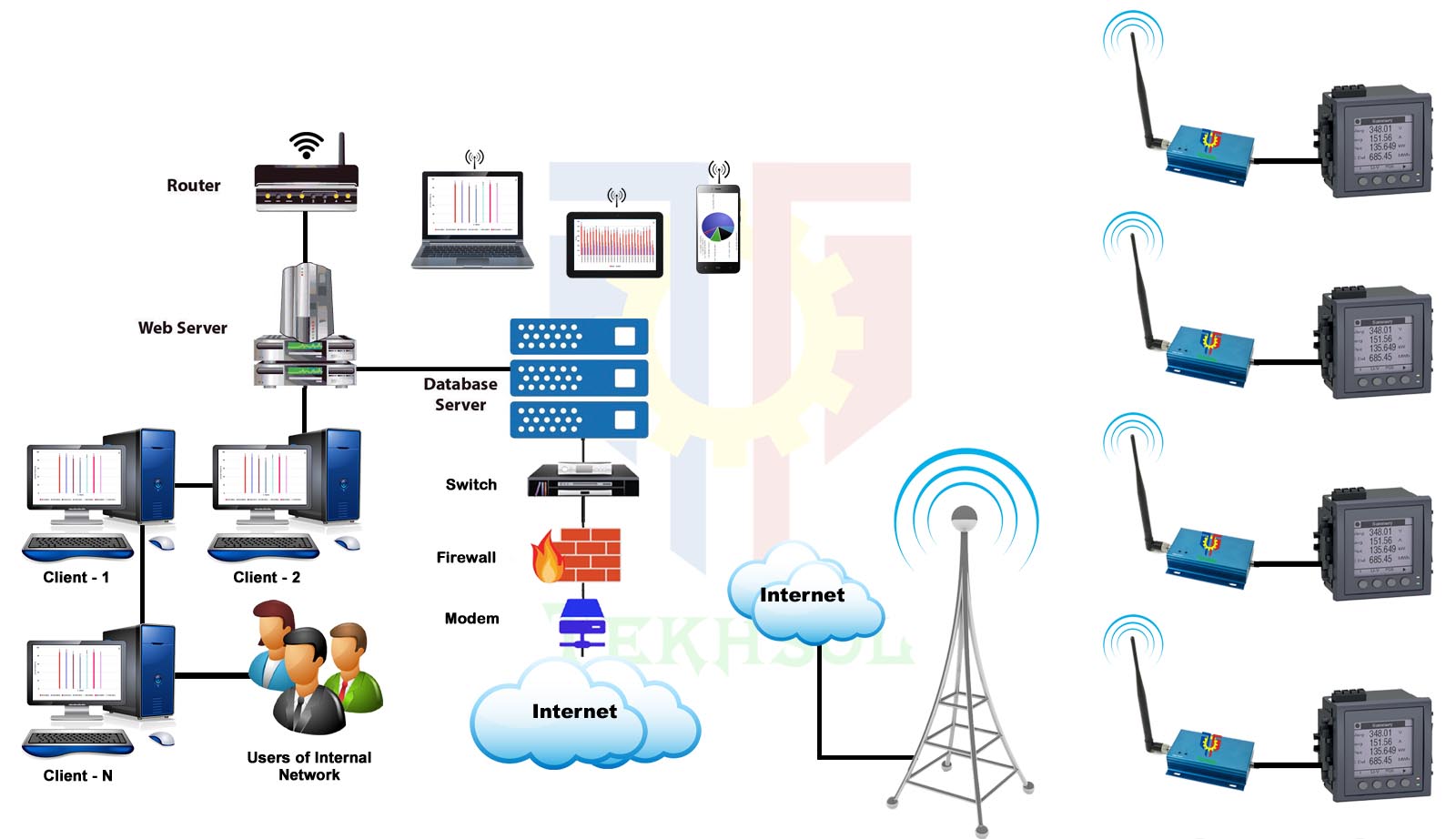 Advantage of Web Based Online Monitoring System
This presents the following advantages over traditional stand-alone Web Based Monitoring System
Energy Details
Line Voltage(R Phase,Y Phase, B Phase)
Phase Voltage (RY Phase,YB Phase,BR Phase)
`
Current (R Phase,Y Phase, B Phase,Total)
Power Factor(R Phase,Y Phase, B Phase, Average - Instantaneous)
Watts (R Phase,Y Phase, B Phase ,Total)
Frequency
VAR (R Phase,Y Phase, B Phase ,Total)
VA (R Phase,Y Phase, B Phase ,Total)
KWH
Features

Web Based Monitoring System is a microprocessor based real time on-line Energy Monitoring System. It acquires data directly from the machines by means of signals. Web Based Monitoring System automates the energy data directly to computer for industries.
Phase Voltage, Line Voltage,KWH, Current and Power factor are directly recorded to computer as phase voltage, line voltage, current and power factor. This greatly helps the management to control the variation and thereby to improve energy.
For every stoppage, Web Based Monitoring System records the start time and end time of the stoppage against the machine, shift and date. The user is allowed to change a suitable reason for such a stoppage from the existing stop reasons at the end of a shift or latter on. Also, the user is allowed to eliminate certain type of stoppages for which the duration is less than out of production time so and which are not considered while production calculation. This greatly improve the accuracy in energy calculation.
Web Based Monitoring System information with respect to Line Voltage, Phase Voltage, Current, Power Factor,KWH are available to the user up to the minute.
User friendly Web based Software. User can monitor the industry anywhere from the world through Internet. Integrated information of all Machines at one place. Monitoring Screen to show current month, Previous Shift, Previous Day and current shift status with easily understandable user friendly GUI.
Dash board for cumulative display of collected data in a single page. Running and Stoppage machines with their percentage. Efficiency wise machines counting with percentage. Instantaneous and Running shift efficiency and production data in the dash board view.
Each detailed report will say the working machine's for the day performance along with the up to date performance is the special quality of Web Based Monitoring System software.
Performance of any Machine can be analyzed at any point of time for any chosen period of working. For any chosen period can be analyzed.
Real time and past data comparison on Machine etc.,.
Total working performance of Mills for last shift would be immediately available to the current shift Executives.
Total working performance of the Mills for a day would be immediately available after the end of the day to the Top Executives. Month end Energy Consumption report and Consumption analysis reports are immediately available after the month end without any manual preparation.
There is no manual calculation and integration is required at any point of time for any kind of report.
As the production parameters are directly recorded from the machines, the special efforts of the system can be realized and the time reduction in the clerical work can be understood.
Web Based Monitoring System software is also allows direct input for Energy and other working details. Which are not censored by Web Based Monitoring System. This helps the management to have total Energy monitoring through computer. The management can realize the completeness in computerizing the production activity.
In most of the reports Mills standard has been compared.
More than 200 different kinds of reports are available. Each of these reports are carefully designed and are very meaningful to control the production routines in all respects.
Graphical representation of data with respect to Energy and Consumption are also available for quick and easy understanding of the Mills performance.

Additional Features

ERP Interface.
SMS Alerts (Optional).
Provision to send reports by e-mail automatically (Optional).
Provision to connect big LED / LCD screens (Optional).
Provision to show Running Display.
View more